It was a windy eve of Halloween 2022, when two PhD candidates of our centre, myself – Mikołaj Kocikowski – and Katarzyna Dziubek – attended the prestigious "Science – Polish Perspectives" (SPP) conference at the University of Oxford. While truffle-parmegiano chips were one of the highlights of this adventure, it wasn't the love of British cuisine that brought us back to the land of Earl Grey and double taps.
I had been invited to give a well-received talk entitled "Of Dogs and Men. How canines can help cure human cancers" while Kasia presented a poster – "Do we really know how cancer immunotherapy works? Shedding new light on the FDA-approved therapies and their safety". Presenting our research to the top-tier researchers from a variety of backgrounds was a challenging, but ultimately successful, exercise in science communication.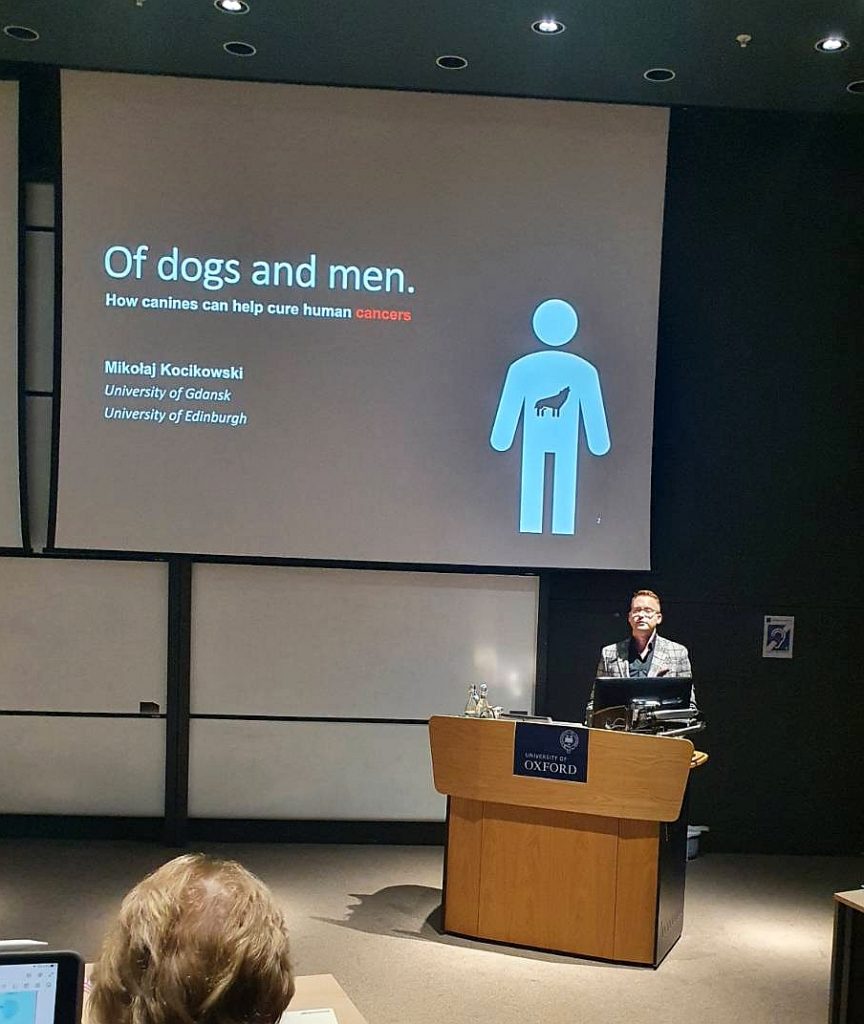 Aside from a fantastic, inter-disciplinary menu of presentations and posters, ranging from the fates of Polish emigrants' children, to quantum physics and beyond, other attractions were lurking at this gathering. Networking was supported by a workshop delivered by Olle Bergman, a Swedish communications consultant. A lot of inspiration and insight came from a talk by Joanna Bagniewska, a notable Polish science communicator and zoologist, who described the meanders of her own career, highlighted the importance of believing in ones own ideas and advised the audience on cooperating with scientific journalists.
The event provided numerous opportunities to talk and collaborate with colleagues from institutions such as EMBL, and to network with representatives of the key players of the Polish scientific landscape, such as the Foundation for Polish Science, Polpharma, or Łukasiewicz Network. It was very positive to observe the big institutions starting to compete for the best talent, aiming to man new Poland-based positions.
The annual SPP conference is run by Polonium Foundation, with the goal of bringing together the Polish scientific diaspora, according to their motto – "turning Polish brain drain into brain circulation". Polonium acknowledges the reality of Polish scientists often choosing the most fertile ground for their research abroad and focuses on the potential of nation's representatives working in the best scientific institutions of the world. The conference itself, like the foundation, is run purely through the unpaid effort of volunteers, their shared values and passion for this extraordinary event. That provides an authentic spirit and example to anyone who attends.
The conference left us with good memories. I only wish I could have spent more time following the footsteps of J.R.R. Tolkien through the stunning parks of Oxford. To quote one of the works by the father of British fantasy and remarkable researcher of myths and languages, whose ancestors lived in Gdansk, "It's a dangerous business, Frodo, going out your door. You step onto the road, and if you don't keep your feet, there's no knowing where you might be swept off to." I'm sure though my feet will deliver me again to Oxford and SPP.
Mikołaj Kocikowski