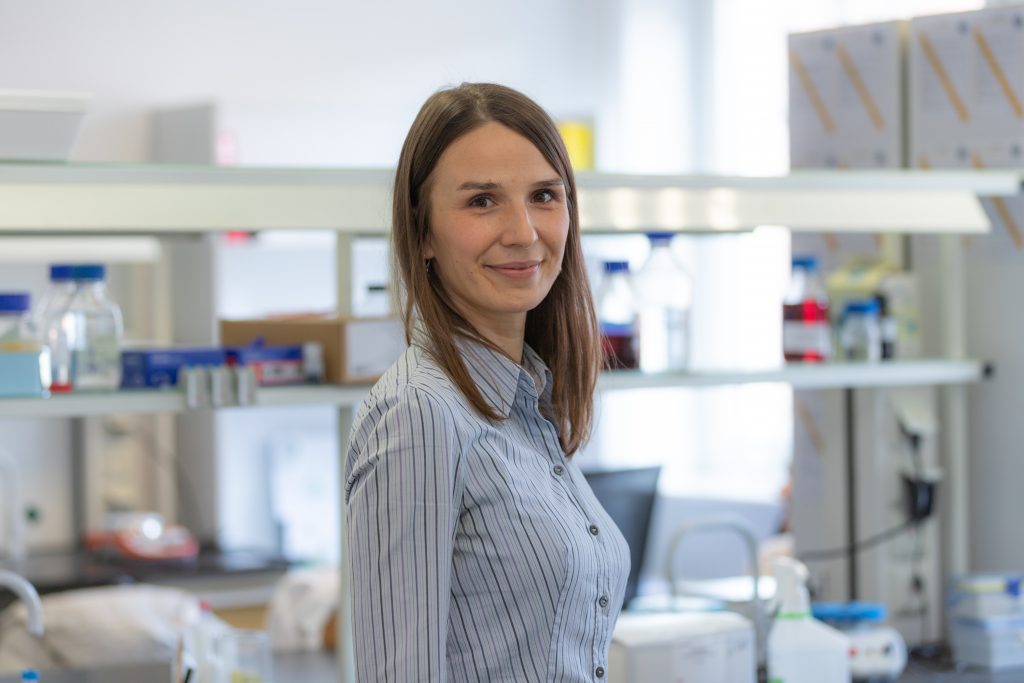 Alicja Sznarkowska, PhD

Doctor in Biological Sciences in the field of Biochemistry
Principal Investigator –  Characterization of the Function and Regulation of Nrf2 Isoform 2 –
Polish National Science Centre, Sonata 17 Programme

e-mail: alicja.sznarkowska@ug.edu.pl
Main research focus:

I'm interested in how life operates on the molecular level and how one piece of the genetic code can carry a different meaning, depending on the context (eg. different environment, different stimuli). This broad question we now explore with a specific example of protein isoforms coming from one gene but showing different characteristics and function. Nrf2 is a transcription factor that transduces cellular stress into adaptive, cytoprotective responses. We have identified an N-terminally truncated isoform of Nrf2 which shows different regulation and indications of novel function as it does not translocate to the nucleus. In SONATA project we explore the function and characteristics of this isoform to enhance our understanding of Nrf2 pathway and its regulation. We know that transcription factors such as p53, p63, p73 but also other proteins such as growth factors (eg. VEGF) have isoforms that counteract function of the full-length forms. We are looking forward to see how it plays out in the case of Nrf2.
We also explore interplay between Nrf2 and antigen presentation via MHC class I molecules.
Ongoing Projects and Scientific Interest
2022-2025
Polish National Science Centre Sonata17 Project:
Characterization of the Function and Regulation of Nrf2 Isoform 2
Principle
Investigator
Previous Positions
| | |
| --- | --- |
| 2018-2022    International Centre of Cancer Vaccine Science, University of Gdansk | Post-doctoral fellow |
| 2015-2014    University of Gdansk, INFECT-ERA project | Post-doctoral fellow |
Previous Scientific Projects
| | | |
| --- | --- | --- |
| 2022 | UGrant Advanced | Principle Investigator |
| 2015-2019 | Polish National Science Centre Preludium9 Project: Different redox potential of tumor and normal cells as a tool for targeting cancer by natural products. | Principle Investigator |
| 2015-2017 | INFECT-ERA/01/2014 (hepBccc) | Researcher |
| 2013-2014 | Polish National Science Centre Etiuda1: Pharmacological activation of p73 as a strategy to kill tumor cells with inactive p53 protein | Principle Investigator |
Doctoral Thesis Supervision:
| | | |
| --- | --- | --- |
| 2022 | Dr Sara Mikac | Identification of a novel, transcription-independent role of Nrf2 in lung cells |
| 2022 | Dr Maria Tovar Fernandez | The origin of peptides for the Major Histocompatibility Class I system |
List of publication from the last 10 years: