CLINICAL PEPTIDOMICS GROUP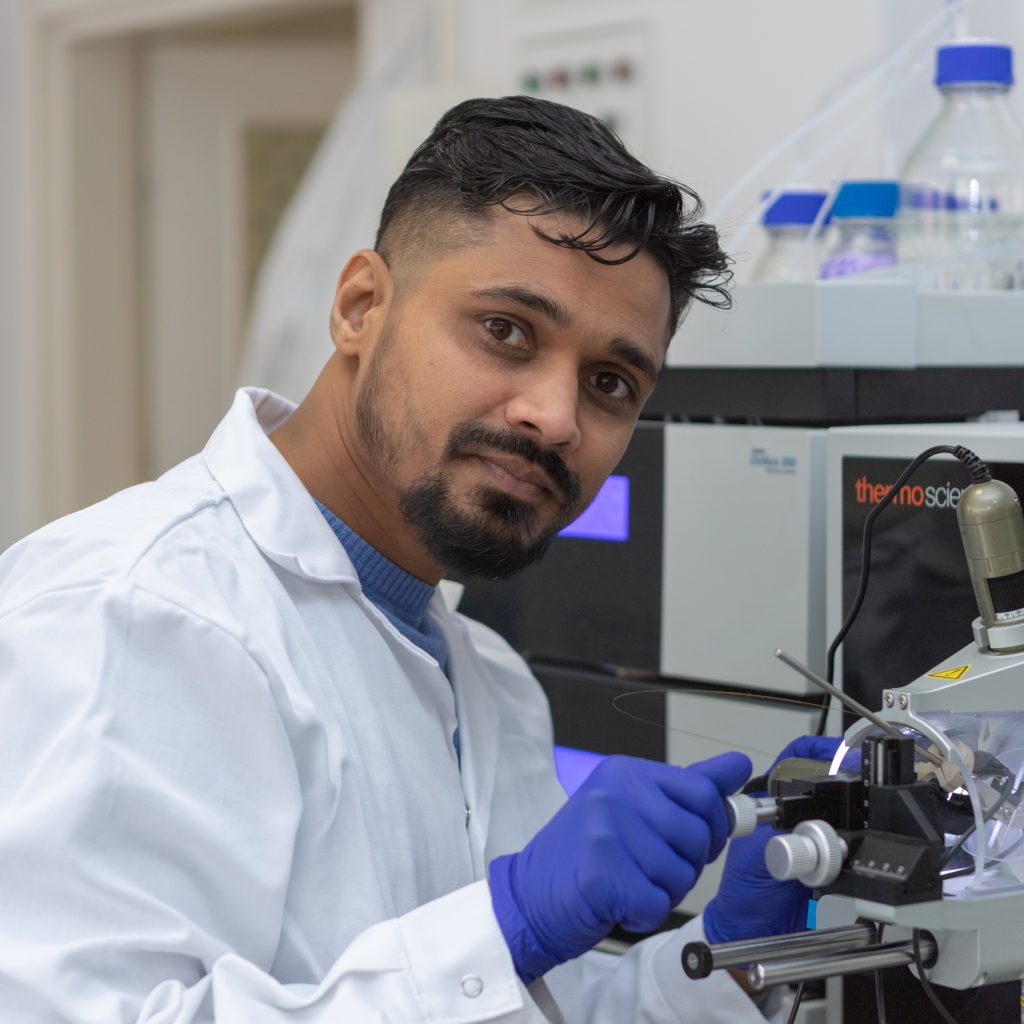 Group leader: Dr Sachin Kote, PhD
Primary research focus: Neoantigen discovery, Immunotherapy, Mass spectrometry, Biomarker discovery, Immunopeptidomics, Proteomics, Diagnostics, Cancer vaccine, Eco-immunology
e-mail: sachin.kote@ug.edu.pl
Academic career
He graduated with honors in microbiology from the University of Pune in 2006 and obtained his postgraduate degree in biotechnology from the University of Bangalore, India, in 2008. He excelled in both studies, receiving the gold medal and the title of best outgoing student. He also has experience in Bioinformatics, Clinical Research & Clinical Data Management (CRCDM), and holds a Diploma in Medical Laboratory Technology (DMLT).
He has extensive experience working in research institutions both domestically and abroad. His research career began in 2009 as a research assistant with Prof. Mahesh J. Kulkarni, a scientist at the proteomics facility at CSIR-National Chemical Laboratory (NCL) in Pune, India, where he gained knowledge and skills in proteomics and its application to areas such as health, environment, and safety. He then pursued doctoral studies in Italy starting in 2011, focusing on in vitro and in vivo nano-bio interactions and utilizing advanced proteomics tools to identify biomarkers for nanotoxicology. Meanwhile, He attended the valuable 4800/5800 MALDI TOF/TOF course in June 2011 at AB SCIEX, Germany. He received an excellent Ph.D. award 2015 from the Italian Institute of Technology-Center for Biomolecular Nanotechnologies (IIT-CBN) at the University of Salento in Lecce, Italy. Afterward, he joined the Italian Institute of Technology (IIT) in Genova, Italy, in 2016 for postdoctoral research, where he developed a dissolution test for assessing the risk of nanomaterials. His research has always been impactful and applicable to society, recognized sufficiently in the scientific community, and aligned with OECD, ENV/JM/MONO, 2020, 9 guidelines. His experiences have helped him develop qualities such as the impact and translational potential of research outcomes, giving him the confidence to accept new challenges and apply his expertise in cancer vaccine science.
Starting in 2018, he began his professional journey as an Assistant Professor at the International Centre for Cancer Vaccine Sciences (ICCVS) at the University of Gdansk, Poland. He focused on establishing an MS laboratory and developing a neoantigen discovery pipeline for cancer vaccine research. Due to his contributions, he was promoted to Deputy team leader of the Chemical Biology and MS group in 2020. Eventually, his passion for clinical peptidomics led him to become the leader of the Clinical Peptidomics group, a role he was approved by the International Scientific Committee of ICCVS, Foundation for Polish Science (FNP), and rector of the University of Gdańsk, and group leaders of the ICCVS project in 2022. Additionally, he actively participated in national-level sporting events in taekwondo and badminton, recognizing the importance of sports in developing valuable skills like teamwork, leadership, discipline, and sportsmanship.
Research
He is thrilled to introduce the innovative field of Clinical Peptidomics, which utilizes mass spectrometry technology and novel peptidomics to enhance cellular therapies and facilitate translational research. The group aims to establish robust, high-volume peptidome profiling pipelines for clinical materials, ultimately applying his expertise to biomarker discovery, diagnostic tools, and personalized therapies. Moreover, the group's activities incorporate various novel techniques, mainly including immunopeptidomics and neoantigen discovery [EPO EP23182549.8 and EP23182546.4], serum peptidomics from humans and non-human biofluids [EPO EP22216500.3, EP22216509.4, EP22216488.1], tissue extracellular peptidomics [EPO EP23182549.8 and EP23182547.2], intracellular peptidomics [EPO EP23167220.5], and quantitative proteomics research and their application to improve health, environment, and safety.
I) Developing personalized therapy for Non-Small-Cell Lung Carcinoma (NSCLC) patients
The research agenda of the Clinical Peptidomics group is focused on cancer, which will form the significant socioeconomic chronic health burdens of Western societies this coming century. It is essential to extend the cell line studies (https://doi.org/10.1016/j.csbj.2021.09.006) to the analysis of clinical samples such as patient-derived tumor tissue, PBMCs, lymph nodes, etc., to develop the translational pipeline ranging from genome to immunopeptidome analysis. This will enable the elaboration of individualized therapeutic approaches. Therefore, the fundamental workflow, i.e., 'neoantigen discovery' established by the Clinical Peptidomics group, plays a crucial role in achieving the aim of ICCVS. The Clinical Peptidomics group, in partnership with the Cancer Immunology group, has made remarkable progress in developing innovative techniques for discovering neoantigens through patient-derived samples without the use of antibodies. This breakthrough would allow us to create personalized cancer therapy by using FACS with MHC class I tetramers loaded with neopeptides to identify and isolate cancer-specific T cells. The Cancer Immunology group would also validate these neoantigens for further immunological assays. He also anticipates expanding his research to non-human samples and providing insight into eco-immunology and the role of infectious animal diseases in ecosystem immunity. As the principal investigator, he submitted 7 patent applications to the EPO (EP22216500.3, EP22216509.4, EP22216488.1, EP23167220.5, EP23182546.4, EP23182549.8, EP23182547.2) and 1 submitted to TTO UG, 26_2021_CTT_Z). The possibilities for his inventions are immense, with potential for clinical application. Moreover, this innovation can be readily used to create tools for diagnosing, prognosis, monitoring, and predicting various acute and chronic diseases. This breakthrough could open up new avenues of research in fields such as immunology, medicine, and industrial development. Additionally, he intends to establish a spinoff to commercialize our innovative methods and offer services based on his discoveries.
II] Novel serum peptidomics approach & diagnostic biomarkers
Receiving an accurate and timely diagnosis is crucial for effective and efficient treatment, which can significantly reduce mortality rates. Early detection is just as important as any other form of therapy. Therefore, it is essential to develop diagnostic tools that are specific, sensitive, accurate, rapid, robust, inexpensive, and user-friendly for deadly diseases such as cancer, cardiovascular disease (CVD), autoimmune diseases, etc. His team has developed a unique "serum peptidomics" method to address this urgent need. Under this serum peptidomics branch, he has submitted 3 European patent applications (EP22216500.3, EP22216509.4, EP22216488.1) as a principal investigator (PI). The long-term goal of serum peptidomics is to develop the Point Of Card Diagnostic (POCD) kits for cancer and stroke patients. Moreover, it can be quickly implemented for DPMP (Diagnostic, Prognosis, Monitoring, and Prediction) development for various acute and chronic diseases. Bioactive peptides are valuable in diagnostics as they directly relate to normal and diseased cellular processes. Early diagnosis platforms must be efficiently working in the following two parts to developing POCD platforms. 1. Novel approach with mass spectrometry to screen peptide biomarkers from patients biofluids (blood, urine, CSF, etc.) for multi-biomarkers discovery. 2. Based on considered and validated markers, the point of care diagnostic (POCD) platforms/kits will be developed either using nanotechnology or any other suitable approach.
III] Novel intracellular peptidomics for primary cells, cellular models
Novel cellular peptidomics for solving unanswerable questions and discovering new information through cellular peptidomics. Through a unique and innovative approach, endogenous peptides from cell lines can be identified using cellular peptidomics. His research has focused on using the melanoma model, both with and without the p53 gene, to explore this technique. Cell-based models are widely available and easily accessible for scientific research. This direct and novel approach involves a qualitative and quantitative screening of endogenous cellular peptides without the need for precipitation, tryptic digestion, or depletion. This approach is globally accepted and applicable. Recently he successfully submitted a European patent application (EP23167220.5) as a principal investigator (PI). Moreover, the methods enable the discovery of intracellular peptides that can be used for diagnosis, biomarker discovery, screening of the peptides as drug targets, and predicting treatment response. Hence inventions provide valuable insights for understating the basic and applied biological questions.
IV] Quantitative proteomics
This part is solely based on proteomics developments by the Clinical Peptidomics group. The principle goal for developing quantitative proteomics is to deal with various biological and cancer-related questions. Discovery of therapeutic targets by membrane proteomics, crosslinking specific genes in cancer (interferon regulatory genes/proteins). Formalin-fixed paraffin-embedded (FFPE) samples based on understanding the tumor microenvironment compressively and detailed disease mechanism). Recently, his team developed the protocol and published it for proteome profiling of isolated immune cell subsets and FFPE tissue samples (https://doi.org/10.1016/j.talanta.2021.122568). Here is the list of working protocols that the group has for clinical samples; i) filter-aided sample preparation (FASP), ii) in-solution digestion (ISD), and iii) a novel pressure-assisted digestion (PCT) method for proteomics biomarker discovery and creating new opportunities for therapy or monitoring of a patients treatment in the clinic. In another proteomics task dealing with GBM patient-derived FFPE tissue, deep proteome profiling and quantifying glioblastoma-relevant proteins using an optimized data-independent acquisition technique. This approach with FFPE samples is a valuable resource for biomarker discovery (https://doi.org/10.1016/j.aca.2022.339695). The team developed a comprehensive proteomics approach for C. elegans models in collaboration with the University of Edinburgh. This model and proteomics approach can be used to understand molecular mechanisms, including cancer and neurological disorders. The crosslinking approach is widely applicable to further ICCVS team members for various biological interactions and interactome analysis (https://doi.org/10.1038/s41598-022-21393-z). These different analytical methods, quantitative proteomics, can also be applicable for discovering therapeutic targets, cancer-specific screening of multi-biomarkers, and detailed biological mechanisms finding novel cancer-related pathways. Therefore, In the context of proteomics, his team has mainly developed quantitative approaches for various biological/clinical samples.
V) Membrane proteomics
The Clinical Peptidomics group and centre have been working on the development of T cell-based therapy for non-small cell lung cancer (NSCLC). The dynamics of membranes could differ in cancer and immune cells. The current activities in the membrane proteomics-related data will help us to understand T cell-cancer cross talk better and will complement already collected data. The team also hopes to open a new field for immunological studies, where we can extract unique information about immune cell communication with cancer that might have a practical impact on novel strategies in immunotherapy. Mainly, the team aims to compare the whole proteome of tumor-infiltrating CD8+ T cells with the proteome of peripheral blood CD8+ T cells of the same patients. He expects excellent applicability to proteomic analysis of limited cell numbers that cannot be directly analyzed without expansion. In addition, any proteomic laboratory intending to perform limited proteomic sample analysis could benefit from the cost-effective and easy-to-use but sensitive proteomic workflow.
VI) Eco-Immunology (human and non-human) serum peptidomics and neoantigen discovery
The Clinical Peptidomics group successfully developed a novel approach such as serum peptidomics (EP22216500.3) and Immunopeptidomics/neoantigen discovery by antibody-free approach (EP23182546.4, EP23182549.8, EP23182547.2 and UG TTO office registration number  26_2021_CTT_Z). Even though the approaches are working with human samples, they can also be implemented in non-human models.  The health of animals, ecosystems, and humans are all interlinked, and recently zoonotic diseases (transferred from animals to humans) have gained international attention. The ecology of infectious animal disease plays out in the theatre of ecosystem immunity (Eco-Immunity). In short, the immunopeptidomics analysis will be performed on the selected wildlife and agricultural animal samples. The peptide sequencing will be performed at the Clinical Peptidomics group at ICCVS, University of Gdansk, Poland, using an Ultimate 3000 nanoLC system coupled to an Orbitrap Exploris 480 high-resolution tandem mass spectrometry (Thermo Fisher Scientific).
Research projects
2022-2025 "Enhancing Cancer Vaccine Science for New Therapy Pathways (CANVAS)", Twinning project, Horizon Europe, project no. 101079510, co-investigator of the project.
Since 2018 "International Centre for Cancer Vaccine Science (ICCVS)", project carried out within the International Research Agendas programme of the Foundation for Polish Science (FNP) and the European Union under the European Regional Development Fund, project no. MAB/2017/3 (budget 12 000 000 Euro); 2018-2020, Assistant Professor, 2020-2021  Deputy team leader of the Chemical Biology group, , since 2022, Leader of Clinical Peptidomics group.
2021-2022 "Dynamics of membrane proteome of T cells during activation", MINIATURA 5, NCN, DEC-2021/05/X/NZ1/00766, mentor of dr Jakub Faktor.
2021-2022 "Impact of IFITM1 and IFITM3 genes on qualitative and quantitative changes in repertoir of peptides presented by MHC class I molecules in cellular model of cervical cancer", MINIATURA 5, NCN, DEC-2021/05/X/NZ1/01748, mentor of dr Maria Gomez Herranz.
2022-2025 "Exploring new roles for ADAR1 in cancer; generation of novel neoantigens, links with p53 and the effects of cancer treatment on ADAR1 activity" NCN,
WEAVE-UNISONO, UMO-2021/03/Y/NZ2/00055, co-investigator of the project.
2021-2025 "Effect of UPF1 ATP mimetics on mutated immunopeptides" NCN, OPUS, Poland UMO-2020/39/B/NZ7/02677, co-investigator of the project.
2022 "IFN- treatment influences the antigen selection and presentation by the MHC-I molecules in hot and cold cancer. UGrants-start,  principal investigator.
2022 "Novel serum peptidomics approach: point-of-care diagnostic of cardiovascular disease", UGrants advanced, principal investigator.
2022 "Quantitative peptidome analysis of skin cancer cell line A375", UGrants-start, mentor of dr Artur Pirog.
2022 "In-insert protein digestion workflow", UGrants-start, mentor of dr Jakub Faktor.
2022 "Analysis of the PD-1 intracellular signaling pathway in osteosarcoma using comparative medicine. Is the dog the key to the next generation of osteosarcoma drugs? "PRELUDIUM 21, 2022/45/N/NZ1/02699, NCN, mentor of Katarzyna Dziubek.
2020-2021 "Detection of precursors of peptides presented by MHC molecules" MINIATURA 4 grant 2020/04/X/NZ6/00259, NCN, mentor of dr. Artur Pirog.
The most important scientific awards
III Degree Rector's award for significant contribution to studies on MHC antigen presentation as well as application of mass spectrometry technique in the characterization of immune cells, University of Gdansk, Poland, 2022.
Excellent Ph.D. award in "Biomolecular- Nanotechnologies" XXVII cycle, University of Salento, Lecce, Italy, 2015.
Patent
Novel method for sample preparation for qualitative and quantitative analysis of peptidome in serum based on amino acid sequencing with a tandem mass spectrometry and novel data analysis workflow for quantitative analysis of the peptides sequenced with a tandem mass spectrometry, 2022 (EP22216500.3).
Serum peptide patterns for diagnostics of acute ischemic stroke in humans and differential diagnosis of acute ischemic stroke from intracranial hemorrhagic stroke, 2022 (EP22216509.4).
Serum peptide patterns for diagnostics of intracranial hemorrhagic stroke in humans and differential diagnosis of intracranial hemorrhagic stroke from acute ischemic stroke, 2022 (EP22216488.1).
Method for high-throughput qualitative and quantitative intracellular peptidomics of mammalian cells, 2023 (EP23167220.5).
Method for screening of extracellular tissue peptides in mammalian tissue samples for health status evaluation, disease diagnostics and neoantigen discovery, 2023 (EP23182549.8).
Tissue extracellular peptide patterns dedicated for generation of anti-cancer vaccines against salivary gland tumor, identification and isolation of salivary gland tumor specific T cells in humans, 2023 (EP23182547.2).
Tissue MHC class I immunopeptide pattern dedicated for generation of anti-cancer vaccines against Non-Small Cell Lung Cancer (NSCLC), identification and isolation of NSCLC specific T cells in humans, 2023 (EP23182546.4).