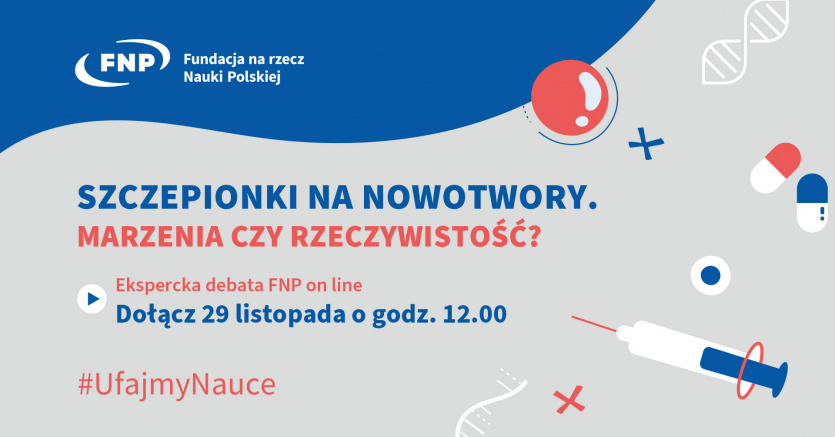 The Foundation for Polish Science (FNP) has invited Prof. Natalia Marek-Trzonkowska to participate in the experts' debate entitled "Anti-cancer vaccines – dreams or reality?"
The event has been organised as part of the series – #UfajmyNauce (#LetsTrustScience) – associated with the 30th anniversary celebrations of the FNP – and took place on 29 November 2022. Besides the ICCVS Director, also Prof. Krzysztof Giannopoulos (Medical University of Lublin), Prof. Jacek Jassem (Medical University of Gdańsk) and Prof. Jacek Jemielity (University of Warsaw) joined the debate. The experts discussed the opportunities, barriers, and perspectives to develop therapeutic vaccines that are able to effectively fight cancer.
Prof. Natalia Marek-Trzonnowsk stresses the importance of initiatives that provide reliable information to the public.
– I believe that this kind of debates are of great importance. Science is created by people and for people, so we all should  have an access to reliable knowledge to understand how drugs or vaccines work. Otherwise, we develop fear and start looking for information in available sources which very often provide misleading information, that we cannot verify.  Besides I think that scientific debates have not only strictly educational value.  Overall, studies on anti-cancer therapies, developed strategies and techniques in cancer research are simply interesting. This kind of dialogue  builds trust in science and scientists, which is indispensable for the progress of new technologies and acceptance of new therapies – said Prof. Marek-Trzonowska to the UG Press Office.*
The debate has been chaired by prof. Maciej Żylicz, biochemist, molecular biologist, president of the FNP, and Krzysztof Michalski, journalist, member of the Science Dissemination Council of the Polish Academy of Sciences.
The recording of the debate can be watched on the FNP Youtube channel: https://www.google.com/search?client=firefox-b-d&q=fnp+youtube#fpstate=ive&vld=cid:63421875,vid:xLZLwREes1A
More information about the debate available here:
https://www.fnp.org.pl/relacja-z-debaty-szczepionki-na-nowotwory-marzenia-czy-rzeczywistosc/
https://ug.edu.pl/news/pl/4390/zaufajmy-nauce-debata-ekspertow-o-szczepionkach-na-nowotwory
*Source: Aleksandra Kuś, Zaufajmy Nauce – debata ekspertów o szczepionkach na nowotwory, 25.11.2022, https://ug.edu.pl/news/pl/4390/zaufajmy-nauce-debata-ekspertow-o-szczepionkach-na-nowotwory.