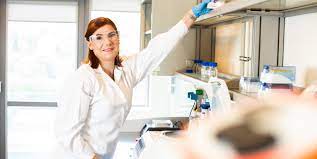 We are pleased to report that Dr Irena Dapić has received the degree of habilitated doctor in the discipline of biological sciences.
Dr Irena Dapić presented her achievements within the topic "Development of tools based on mass spectrometry for proteomic analysis of biological materials". The research was reviewed by Prof. Michał Dadlez, Institute of Biochemistry and Biophysics of the Polish Academy of Sciences, prof. Jerzy Silberring, AGH University of Science and Technology in Kraków, dr hab. Maciej Łałowski, University of Adama Mickiewicza in Poznań, dr hab. Monika Pietrowska, National Institute of Oncology Maria Skłodowska-Curie – National Research Institute in Gliwice.
Congratulations to the newly habilitated doctor!
Would you like to learn more about the dr Dapić's habilitation, please go to:  https://bip.ug.edu.pl/st-tyt_nauk/114160/irena_dapic
(fot. OneHD for FNP)