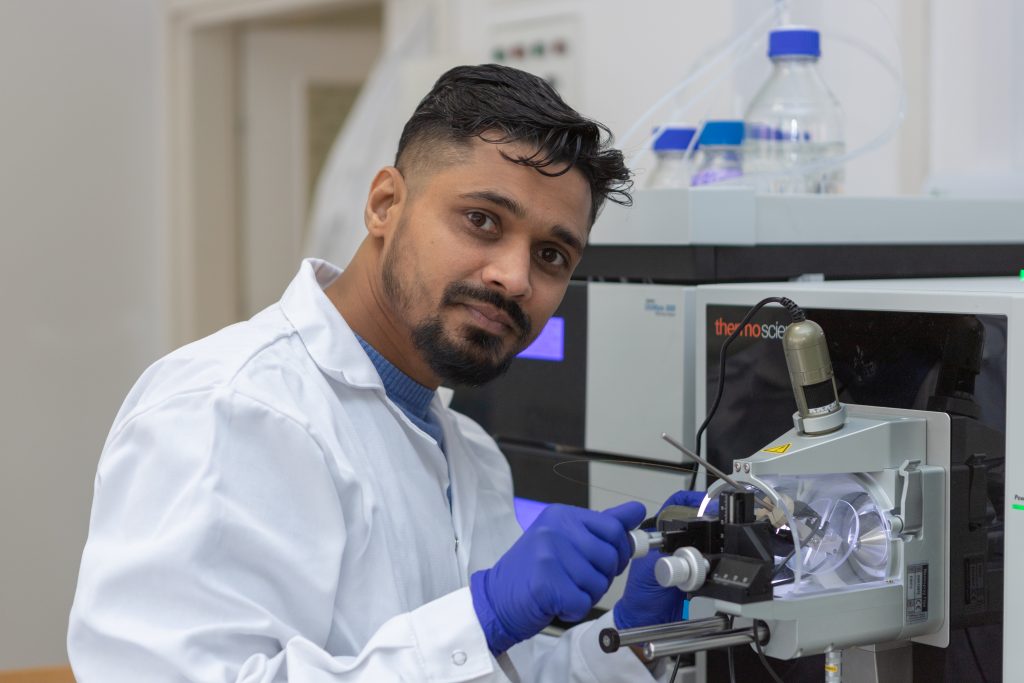 We are very pleased to announce that new research group – Clinical Peptidomics – has just been established in the International Centre for Cancer Vaccine Science. The leader of the new team is Dr Sachin Kote.
The primary focus of the Clinical Peptidomics Group is to identify neoantigens derived from clinical samples of non-small cell lung cancer (NSCLC)  by mass spectrometry (MS) to elaborate personalized vaccine against NSCLC that is one of the main goals of ICCVS. "These neoantigens allow us in cooperation with Cancer Immunology Group to develop novel therapeutic applications for cancer patients (NSCLC). Moreover, the group is building of Eco-Immunology via a neoantigen discovery pipeline" – explains dr Sachin Kote. Together with the Computational Biology/Bioinformatics Group, Dr Kote is establishing theoretical frameworks to understand eco-immunology and its impact on animal disease ecology (including mice, canines, cheetahs, leopards). Dr Kote's team also developed novel peptidomics (serum, cellular) and quantitative proteomics approaches for Diagnostic, Prognosis, Monitoring, and Prediction (DPMP) platforms for acute and chronic diseases.
Biography note
Dr Sachin Kote graduated in Biotechnology from Bangalore University (India). He started his scientific research at National Chemical Laboratory (NCL), India. In 2015 he defended his PhD thesis with an excellent Ph.D. award from the Italian Institute of Technology-Center for Biomolecular Nanotechnologies (IIT–CBN), University of Salento, (Italy). During his first postdoctoral research at the Italian Institute of Technology (IIT), Genova (Italy), he developed protein nanoparticles for nanomedicine and dissolution tests for risk assessment nanomaterials. In 2018 he joined senior postdoctoral research with the International Centre for Cancer Vaccine Science (ICCVS) to develop the Neoantigen Discovery pipeline. From October 2020 till May 2022, he was the Deputy Group Leader of the Chemical Biology Group at ICCVS. Currently, Dr Sachin Kote is the Group Leader of the Clinical Peptidomics Group. Dr Kote's current research focuses on neoantigen discovery (from cellular and clinical samples) for cancer vaccine development, and novel peptidomics (biofluids) approaches to develop the Point Of Care Diagnostic (POCD) platforms for acute and chronic disease.